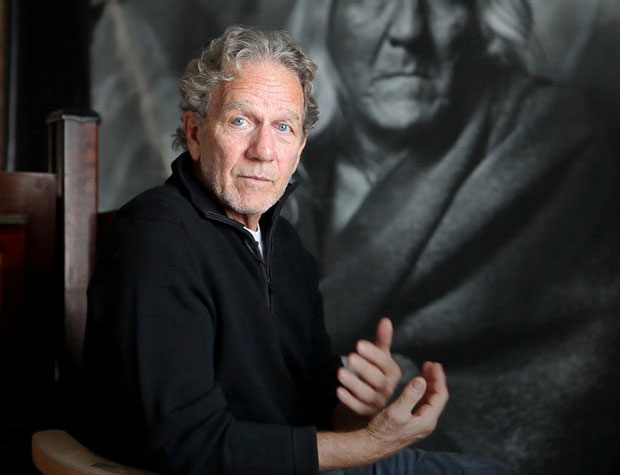 Dennis Manarchy was raised in Rockford, Illinois. He grew a love for photography at an early age and won a scholarship to Rochester Institute of Technology. Upon graduation he was fortunate to serve an apprenticeship for legendary photographer, Irving Penn. It was a highly disciplined and uncompromising creative environment. Penn became simultaneously a mentor due to his amazing talent and meticulous nature, and a nemesis because it took years for Dennis to break from his influence and develop his own style.
Dennis was drafted into the army in 1968. After serving as Lieutenant in the Vietnam War, he returned home disillusioned. He met a Lumbee Indian chief in a North Carolina bookstore, and after sharing his story he was invited to move in with the Tribe. Dennis spent 6 months readjusting while immersing himself in their daily life. It was a pivotal experience.
Upon leaving the Tribe, Dennis returned to the Midwest, opened a studio in Chicago and built an international clientele. Throughout his career, he has won  national and international awards for his work on campaigns from Porsche to Nike to Harley Davidson to Dior. His first book "En Passant" won the prestigious American Graphic Design award and his latest books, "Metal" and "Metal 2" each won Graphis Gold in 2009 and 2010.
Career Awards
Graphis Awards
2010 Graphis Design Annual Gold Award for METAL book
100 Best in Photography 2011 for METAL 2
CLIO Awards
ADDY Awards
Kelly Awards
Caddy Awards
Epica Awards
Mobius Awards
AdWeek Photographer of Year
Museum of Contemporary Photography permanent collection
2012 International Photography Awards ("Lucie Awards") – Finalist, Deeper Perspective category
Professional Work
Campaigns for The Gap, Nike, Harley-Davidson, Apple, Kodak, and Panasonic. Dennis has had features in Vogue, Vanity Fair, Zoom, Photo, Life, and Time magazines.
Creative Work
Dinner Roles, METAL, En Passant, Homeless (gallery exhibition), Nudes, Atchafalaya, Objet d'Art, White Trash, What Do You Think of before Going to Sleep? (gallery exhibition), Private Investigations, The Serpent and The Flower Petals, Lips, Cadillac Tail Fins, The Greased Nude, The Paint Tube